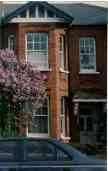 AAS (Annscott Accomodation Service) accommodation is in private homes and so is highly personalized, providing value for money and a much cheaper alternative to costly hotels. You cannot expect hotel facilities, such as fax machines, conference or meeting rooms etc.
As these are private homes it is essential that your hosts know your arrival time so they can be there to greet you and you do not have an unnecessary wait for their arrival home.
AAS are a booking agent between paying guests and hosts. The information that we provide to you is based on the circumstances prevailing in the homes when inspected by us. Every attempt is made to ensure a high standard of accommodation. We do not own or provide the accommodation and your contract is with the hosts. We do not accept responsibility for matters out of our control.
AAS reserves the right to transfer accommodation should it be necessary or offer a full refund of moneys - we would notify guests of any proposed change as soon as possible. Cancellation less than 8 nights before due arrival date will mean loss of deposit or we will try to rebook you at a later date at no loss to you. If we can rebook the accommodation we will return your deposit to you. A small administration fee may be charged. Cancellation before that time carries an administration charge at the discretion of Holiday Hosts.
We would advise taking out travel insurance. You must take care not only to protect your possessions but also to ensure that you comply at all times with the security arrangements stipulated by the householder.
Please give your acceptance of proposed accommodation within 3 days.
If you have problems with your accommodation you must notify us during your stay, as refunds cannot otherwise be agreed.
The company and your hosts will do their utmost to make your stay a pleasant and enjoyable experience.
DO NOT FORGET TO GIVE YOUR ARRIVAL TIME!